Gift Giving Guide – The Mycroscope Way – Episode 1
It's the most wonderful time of the year… unless you're hard pressed to find that perfect gift for someone special.  Fear not – we've got you covered here at the 'Scope.  From now until Christmas, we will provide you with out of the box gift ideas sure to win you praise and accolades – or scorn and derision… frankly, we don't care either way.  Anyway, without further delay – let's get to this week's item:
The Jesus Toaster: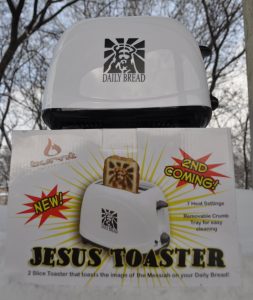 Nothing says Christmas, like the holy visage of Our Lord and Savior on your morning toast, am I right?  While carb loading may not be great for the gut or the ticker, at least you're safeguarding the lucky recipient's immortal soul.  Yes, you'll be putting a little bit of Christ in every day – and there's nothing wrong with that folks!  You can grab one for yourself and a friend on Amazon at the low, low price of $39.00!  Buying for a Catholic?  Don't despair – they've got a Virgin Mary toaster too!
God bless – and happy shopping.