Christmas Giving: The Mycroscope Way – Episode 2 Golf Nut
In our last episode, we catered to the homemaker with the Jesus toaster.  This week, it's all about the golf nut.  Winter shouldn't be a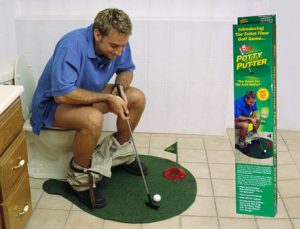 golfing dead zone for that guy or gal in your life that loves to chase balls.  No.  Absolutely not.  And we all know that so few of us have that extra space in the living room or family room to lay a proper putting mat.  Never fear, there's the potty putter.
Yes, now you can put what was once wasted time to proper use.  Perfect that putt while using the john daily………………… *chuckles*  Your friends will marvel as you approach that next short putt from a crouched position – looking ready as ever to drain the hole.
You can find this fine product on Amazon for a low, low, $6.08 with FREE SHIPPING!